.

DATELINE: MCCARTY METRO 72 HOUR FILM PROJECT

The second McCarty Metro & Bradric Productions 72 Hour Film Project took place on the weekend of August 16-18. Everyone had a chance to enter in a 4 minute home-made movie that they completed. Thank you to the few who completed the project. The winning project was chosen by the McCarty Metro. Congratulations to Steve McCarty and family for their film "Chity Flats", which is the story of a Grand Rapids wedding.

All the entries were great. Runners up include Dial M, a movie trailer submitted by Jerry McCarty & Bradric Productions which is about a movie set in 1924 Atlantic City, starring Al Pacino. Also, the Happy Hair Production of "Big Story Or Big Sham", which is an investigative report on the claims at Mystery Spot in Michigan.

Thanks once again to those who worked on a project, and I am hopeful that next year we will get more entries.
.
DATELINE: GRAND RAPIDS, MICHIGAN
The wedding of Jon Besselsen and Jill McCarty took place on Friday, August 9. Due to a water main break in the parking garage just hours prior to the scheduled reception in the City Flats Hotel Ballroom, the reception had to be moved on the fly to The BOB, just a few blocks away. Firefighters helped moving all the supplies to the new location. Although the break put a monkey wrench in the plans, the reception turned out beautiful. Congrats to the happy couple.
The Couple Takes Their Vows

The Mac Family Poses For Pics After The Wedding

.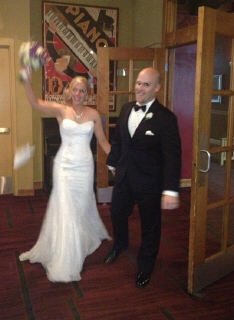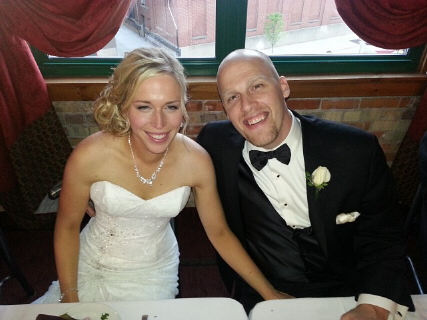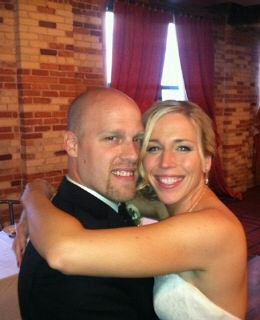 | | | |
| --- | --- | --- |
| Jon & Jill Enter BOB As Husband & Wife | They Take Their Place At The Head Table | Their First Dance Together |
.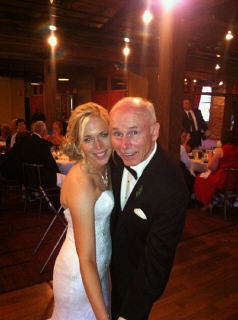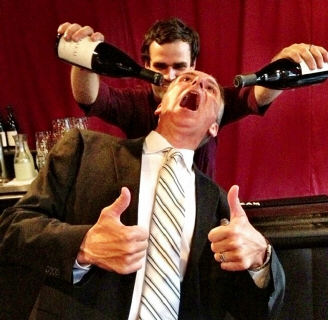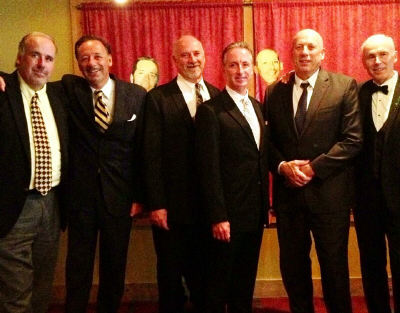 | | | |
| --- | --- | --- |
| Daddy / Daughter Dance | Well They Said It Was An Open Bar | The McCarty Brothers |
THANK YOU TO OUR GUESTS - From the bride's parents, Mike and Karen McCarty
We are so thankful to everyone who flew in and drove in to help Jon and Jill celebrate their wedding day Aug. 9. Guests arrived from Maryland, Tennessee, California, Virginia, Colorado, North Carolina and Michigan. After a beautiful service at Immanuel Lutheran Church, our guests learned that the reception venue was changed at the last minute due to a flooded parking garage and leaking fuel that shut nearby businesses. But everyone took it in stride and everyone showed up at the B.O.B. (Big Old Building). We are grateful to the staffs of CityFlats Ballroom and the B.O.B. for making this reception happen. Special thanks to guest/point person Kristen. And we thank all our guests for making this such a fun, memorable night. Most of all, we thank the bride and groom, who displayed grace, charm, fun and love. We are proud of you, Jon and Jill. Congratulations, Mr. and Mrs. Besselsen!
As an extra souvenir, here are a couple of local TV reports with cameos by Erin and Scott (on WOOD-TV) and Steve, Kristen, Megan and Jenna (on Fox 17).
DATELINE: PORCH PARTY

The Michigan reception for Brad & Valerie took place on Saturday, August 24. It was well attended, and everyone had a great time. Great food, plenty of drink, and music by 'Bob & Carl' marked a festive evening. Brad & Valerie would like to thank all the family and friends who took time out to celebrate their wedding, and impending birth of their first child.

DATELINE: COCKROACHES 30 YEARS LATER

In addition to the celebration for Brad & Valerie, 4 of the original 6 members of the band "Brad Savage & The Cockroaches" got together to have a mini reunion marking the 30th anniversary of their first record "Cockroach Party". Brad, Eric, Bob, and Carl played 4 songs together, plus an additional song for the happy couple. Drummer Lance and guitarist Rambo couldn't attend.
DATELINE: GLUTTON FOR PUNISHMENT
Austin McCarty continues his quest to run in the Detroit Free Press Marathon in October. In 2 of his tune up events, Austin competed in 2 very difficult half marathons. He ran in the Tough Mudder run in July, and in the Gladiator Run in August. Each were basically torture events where he had to run through mud, climb walls, crawl under barbed wire, and get electrical shocks. Austin completed both races, and is confident the Free Press Marathon will be a walk (run) through the park.
DATELINE: TWO MCCARTY METRO SUBSCRIBERS HAVE NEW BOOKS OUT
MIKE MCCARTY
"Michael, Michael, Michael: Confessions of an Outrageous, Contagious Klutz" is a collection of humorous anecdotes that have left people shaking their heads from Detroit to Michigan's Upper Peninsula. Mike McCarty is a writer, entertainer and a menace to OSHA and other safety groups.
The book is available for puchase on Amazon.com. Click here for the link to the page to check it out. It is available in paperback for under $8. It is a good read and makes a wonderful gift for family, or your favorite klutz.

Also, you can check out my monthly blog on the Klutz Page right here on the McCarty Metro.

Thanks everyone,
Mike
CHARLES RZEPKA
I don't ordinarily do anything worth mentioning in the McCarty Metro, but my new book on Elmore Leonard, Being Cool, has just been published, and family members, especially in the Detroit area, may like to know. Here's the link to the book page on the Johns Hopkins University Press site.
My publicist tells me that anyone who orders a copy using the form I'm pasting in here will get a 25% discount (take note of the code, NAF). The hardcover version is the one with pictures. Download the order form.

Finally, here's the link to my blog eulogy on Leonard, written the morning of his death two days ago.

Best wishes to all,
Chuck


We want to hear your questions, comments, rants, or editorials. Just submit them to soundoff@mccartymetro.com.
Dear Editor. Great party, and really enjoyed hearing Brad Savage & Eric Swan again. When are you guys going back on tour. -Cockroachette

ED NOTE: Thanks. It was fun performing again with Eric, Bob & Carl. The next time Eric comes to town, we have an appearance scheduled at Andiamo's. We'll be the ones at the end of the bar sipping Martinis.

Dear Editor. I thought the City Flats Hotel in Grand Rapids had a swimming pool. -Hoping to get wet

ED NOTE: They do. It covered the entire first level of the parking garage.
Dear Editor. I think I caught McCartyitis. I listened to Mario and Rod the other night and heard Mario state that Alvarez had "scattered 4 hits after 4 innings with 3 coming in the 2nd. Quick somebody get me a dictionary. -Truman
ED NOTE: Steve... I think you've been golfing too much with Mike lateley. You know he is a chronic carrier of the McCartyitis disease.
GONE BUT NOT FORGOTTEN - JULY
| | |
| --- | --- |
| | |
Joe Conley, 85, actor (The Waltons, Cast Away), complications from dementia. Amar Bose, 83, executive, founder of Bose Corporation. Cory Monteith, 31, actor (Glee) and singer, heroin and alcohol overdose. Helen Thomas, 92, journalist and author, member of the White House Press Corps. Dennis Farina, 69, actor (Law & Order, Saving Private Ryan, Unsolved Mysteries), pulmonary embolism. Eileen Brennan, 80, Emmy Award-winning actress (The Last Picture Show, Private Benjamin, Clue), bladder cancer. George Scott, 69, baseball player (Boston Red Sox, Milwaukee Brewers).
GONE BUT NOT FORGOTTEN - AUGUST
| | |
| --- | --- |
| | |
John Palmer, 77, journalist and news anchor (NBC News), pulmonary fibrosis. Art Donovan, 89, football player (Baltimore Colts), inducted into Pro Football Hall of Fame (1968), respiratory ailment. Shawn Burr, 47, hockey player (Detroit Red Wings), complications from fall. Eydie Gormé, 84, singer ("Blame It on the Bossa Nova"). Lisa Robin Kelly, 43, actress (That '70s Show).
AND FINALLY...
Many considered retired U.S. Army Major Ronald Bain to be a hero, one who saved lives in the disastrous 1995 Oklahoma City bombing. Others knew Bain as former head of the Army recruiting office in Oklahoma. His family, however, celebrates his life as a diehard Cleveland Indians fan, who worked hard at his job and cheered tirelessly for the Tribe.
Bain, who worked in the Alfred P. Murrah Building in Oklahoma City, was at work the day of the bombing. He survived the disaster with severe lung damage but later died on March 22, 2013.

Bain is survived by his wife, Laura, and his three children — Valerie, Allison and Stephen. His family, including his mother, Evelyn, and his sister, attended the Tribe game on Friday in celebration of what would have been his 55th birthday.

"My husband is probably the biggest Cleveland Indians fan I've ever known; he just loved the Indians," Laura said. "We had planned to come to the game on his birthday, and I just said this is where I wanted to be on this day. I contacted his family members and just said, 'Hey, this is where I'm going to be to feel close to Ron.'"

Laura, who is an Air Force veteran, showed up in her husband's Indians shirt, and her children came wearing Bain's old Indians baseball hats. The family drove in from Marengo, Ohio, and joined Bain's mother and sister in seats behind home plate, where they had a great view of the Indians game versus Minnesota that night.

Laura said she has a feeling Bain is enjoying the Tribe's run from an even better seat.


Metro Subscribers Stephen, Laura, & Allison Bain
"I think [attending the game is] what he would have wanted," she said. "He always got so excited about the Indians; he was always so hopeful that every year was going to be the year, and every game was going to be the game. His heart was in it all the time. It doesn't seem like we should sit and be sad on his birthday; it seems like we should be at one of his favorite places doing one of his favorite things — rooting for the Indians.
"I'd like to think that he can see the game, and he's going to be so pleased that they get [to the postseason] this year."
–TribeVibe contributor Megan Golden
WE'LL SEE YOU BACK IN OCTOBER