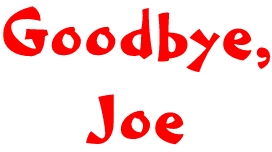 By Mike McCarty
In early April, the Detroit Red Wings played their last game at Joe Louis Arena. The Wings will open in fall at their new home, Little Caesars Arena.
But The Joe holds many fond memories. Among them, Karen and I had standing room tickets to see the Wings hoist the 2002 Stanley Cup with a victory over the Carolina Hurricanes.
Here is a song tribute/parody to Joe Louis Arena. Props in the YouTube video include a 1997 Free Press front page of the Wings Cup victory that year. Also there is cheer gear from the 2002 Stanley Cup win at The Joe.
GOODBYE, JOE
Sung to the tune of Hank Williams' "Jambalaya"
By Mike McCarty
Goodbye, Joe, you gotta go, me oh my oh
Gone after 3-dozen years in Detroit-oh
Cuz the Wings are movin' out, me oh my oh
Son of a gun they've found big fun somewhere else-oh
CHORUS
Little Caesars Arena is the place to go-oh
Cause in FALL the Wings will drop the puck-o
The Pistons, Kid Rock, Lady Gaga too
Son of a gun they'll have big fun and make dough
Stevie Y, Russian Five, the Joe was buzzin'
The fans CAME to see Probie go tusslin'
Hoisted FOUR Stanley Cups, me-oh-mi-oh
Son of a gun we'll have memories of the Joe-o
CHORUS
Little Caesars Arena is the place to go-oh
Cause in FALL the Wings will drop the puck-o
The Pistons, Kid Rock, Lady Gaga too
Son of a gun they'll have big fun and make dough